History of the NWVTC
In 1980 by Ms. Chris Boese formed the Northwest Vintage Thunderbird Club of Oregon for those with an interest in the 1955-1966 Ford Thunderbird. The first meeting was held on August 28, 1980. In its first full year of existence there were 45 member families. The Club is incorporated in the State of Oregon as a non-profit corporation since 1983. It has been associated with the Vintage Thunderbird Club International (VTCI) since its inception.
The Club began its annual participation in the Northwest Car Collectors Association (NWCCA) Show in 1987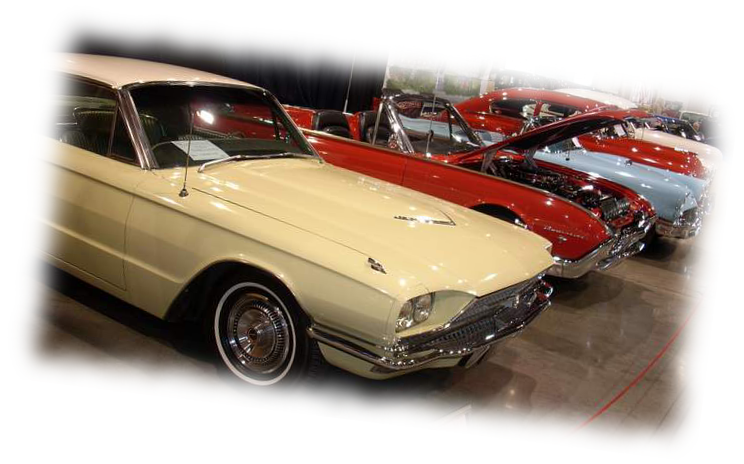 and contributed both time and cars for this event every year till its last show in 2008.
In 1994, the club looked at bringing in model years 67-71, but was superseded on the national level by the VTCI when the club voted to include all model years of the Ford Thunderbird.
In Feburary 2001, our club went digital with its first website. It was also the year we became the only west coast member of the International Thunderbird Club (ITC).

The club had the honor of hosting the 2005 VTCI Convention and the 50th Anniversary for the Thunderbird here in Portland, Oregon with Thunderbird owners and admirers coming from around the world.
2007 was the first year that we joined the North Plains, OR Garlic Festival by hosting a car show in downtown North Plains. Though the club put in lots of time and effort into the show, we experienced a gradual drop in participation each year. 2013 was our last year hosting.
In 2011 we dropped the "of Oregon" from the club's name. This reflects the change from a club whose members primarily lived in Portland, OR to today's club where members come from all over Oregon and Southwest Washington. The club hosted the VTCI's International Convention once again in August 2011.
We never lost our ambition in hosting a good car show and in 2014 the club partnered with Haggen Grocery to bring a show to Oregon City, OR. There were over 100 vehicles that registered and the show raised over $1000 for Make-A-Wish Oregon. 2015 was just as successful with a few more vehicles registering and almost $1200 going to Make-A-Wish!
In 2017 the members of the club committed to producing two cruises that are open to members of the club and their guests. Fourteen Thudnerbirds joined a spring cruise that took members along Oregon Old Hwy 30 to Vista House, past several waterfalls and into Hood River for lunch. Similar numbers were on a fall cruise that took Hwy 26 to the Tillamook Air Museum.
The club was aksed to come back to North Plains, OR in 2017 to host the car show. Because the west side of Portland has a lack of car shows, we had a great turnout with almost 150 vehicles registering. Look for another show here in 2018.