Replacing Your Thunderbird Tires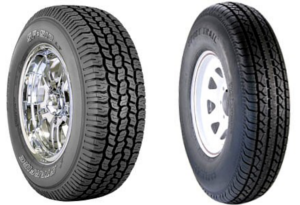 You found an all original Thunderbird! Congratulations! But those tires really are old. Are you going to trust them?
Most vehicles since the seventies have been driving on radial tires. Not that there was anything inherently wrong with a bias-ply tires, but radials give a slight advatage in fuel economy. You can find bias-ply tires and look like bias-ply but it's going to cost you. This article on the Vintage Thunderbird Club International website tells you how to cross reference a bias-ply size with a radial tire size. The links above will take you to some companies that make modern tires with the correct "look" for an older Thunderbird.